Journal of Astronautics and Aerospace Engineering:- is a print e-journal focused towards the rapid Publication of fundamental research papers on all areas of astronautics and aerospace engineering.

astronautics is the branch of engineering that deals with the design, development, testing, and production of aircraft andrelated systems. Where Aerospace engineering is the primary branch of engineering concerned with the research, design, development, construction, testing, science and technology of aircraft and spacecraft.
Study of spacecraft, missiles, rocket-propulsion systems.
Study of aerodynamic.
Rocket science.
Atmospheric pressure.
Structural analysis.
Materials science.
This Journal involves the comprehensive coverage of all the aspects of astronautics and aerospace engineering.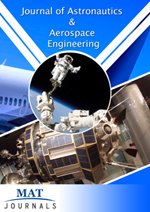 Announcements
No announcements have been published.